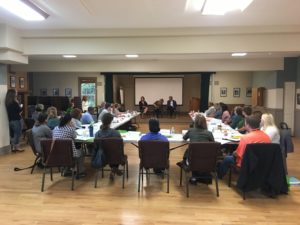 The Leadership Kitsap Class of 2018 began their leadership journey with a two-day retreat at the Seabeck Conference Center on September 8 and 9, 2017. Day one focused on leadership development and day two on becoming a team.
Cary Bozeman, Port of Bremerton Commissioner and former mayor of Bellevue and Bremerton, kicked off the retreat with his personal reflection on leadership. Dora Summers Ewing (LK12) introduced Positive Leadership as Leadership Kitsap's core curriculum.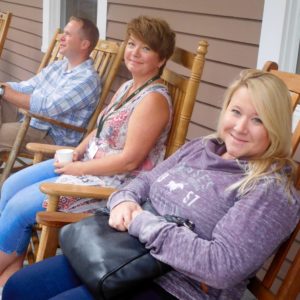 Prior to the Challenge Day, class members took the Strengths Finders 2.0 assessment and identified their top five strengths. The morning included debriefing the assessment results led by Jeff Faucett (LK14). The class enjoyed hearing from an inspiring panel of leaders including Greg Belding, Architect/Principal, Rice Fergus Miller; Jennifer Kreidler-Moss, CEO Peninsula Community Health Services; and Kellie Le Texier, COO Kitsap Credit Union. All shared their valuable leadership insights.
Following a family-style lunch, Cindy Ross (LK14) led the class in a series of fun team building activities. Kol Medina, Executive Director of the Kitsap Community Foundation, inspired the class with his personal reflection on servant leadership.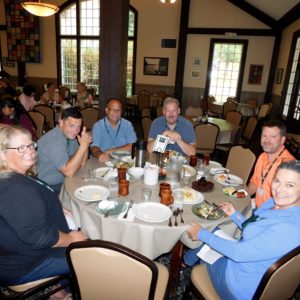 Dora Summers-Ewing debriefed the Myers-Briggs Type Indicator (MBTI) assessment, designed to measure how people perceive the world and make decisions. The debrief was followed by a team activity to help define team core values. The evening was capped off with a "fireside chat" to learn more about each other.
On the second day of the retreat, Jennifer Yeaman (LK11), PSNS & IMF Diversity Program Manager, engaged the class in a meaningful discussion around leveraging diversity and inclusion. Jeffrey Menge (LK17) and Carli Schmitz (LK17), this year's Project Co-Chairs, reviewed project guidelines, processes, and expectations. Several past projects were highlighted. As part of the projects discussion, the class enjoyed a panel discussion of community leaders who benefited from previous LK projects. Harriette Bryant (LK05), Founder and President/CEO of OurGEMS shared the benefits of working with a Leadership Kitsap team to make the dream of a Brilliance Award Banquet a reality. Kitsap County Undersheriff John Gese (LK04) shared how the Pills Kill (LK13) project benefited the community and the Kitsap County Sheriff's Department.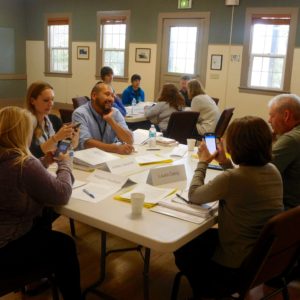 David Emmons, Director Olympic College Foundation (LK14) shared how one of last year's teams worked with the Office of Institutional Effectiveness to create an event to promote Olympic College's Stay on Course mentoring program focused on increasing student success, particularly women at risk. The panel gave great tips and insight into working with community partners for the benefit of the greater community. The teams then were given the opportunity to brainstorm project ideas and use board members in attendance as sounding boards. Everyone left the retreat feeling inspired and energized, and ready to serve!
Executive Sponsors: Kitsap Community Foundation, Olympic College, Port Madison Enterprises
Challenge Day Sponsors: Kitsap Credit Union & Town & Country Markets