Purpose
Leadership makes things happen. It identifies opportunities, shapes opinions, and meets challenges. Meeting these complex challenges requires a vigorous, informed group of leaders that represents all segments of our community.
Leadership Kitsap was originally organized in 1993 by the Bremerton Area chamber of Commerce in conjunction with all Kitsap chambers, and United Way of Kitsap County to reinforce the concept of informed and committed civic volunteerism. Its purpose is to provide focus for an effective group of alumni who respond to challenges facing our dynamic and evolving region.
Leadership Kitsap's goal is to build a new and continuing source of fine leaders. The program brings together people from many professional fields (public and private), finance, manufacturing, construction, education, law, government, military, media, health care, utilities, retail and human services. It creates a structured system of communications among leaders from different sectors and constituencies, and facilitates access between the existing and the merging leadership of the community. Leadership Kitsap produces colleagues who can and will help each other get things done.
Above all, Leadership Kitsap promotes a breadth of vision and an understanding of the complexity of the Kitsap area and its public policy issues. It sharpens the leadership skills necessary to motivate and engage others in a collaborative effort to meet the challenges ahead.
Participants are selected annually through a competitive process. Leadership Kitsap's goal is a cross section of individuals representing diverse interests, backgrounds and cultural experiences. The program lasts ten months and consists of two leadership retreats and eight forums centered on major public policy challenges. Small-group community projects to create change are an integral part of the curriculum.
Class of 2018
Cami Apfelbeck, City of Bainbridge Island
Lloyd Birch, Harrison Medical Center
Lynette Bird, Peninsula Community Health Service
April Birkenfeld, Kitsap Community Resources
Alex Cervantes, PSNS & IMF
Laura Daley, Housing Kitsap
Ophelia Davis, Navy Region Northwest
Erica Delma, Holly Ridge Center
Aaron Elton, City of Bremerton Police Dept.
Michele Filley, Kitsap County Public Works
Denita Holmes, Suquamish Tribe, Port Madison Enterprises
Megan Hudson, NUWC Keyport
Alanna Imbach, Vibe Coworks, NK Soroptimists, Hanten-Berger Scholarship
Dayna Katula, Kitsap Public Health Department
Jay Kent, Kitsap County Sheriff's Guild
Chris Meyer, PSNS & IMF
Danielle Morsette, Suquamish Clearwater Casino Resort
Ashley Oaksmith, Kitsap Regional Library
Kellie Pendras, Kitsap County Prosecutor's Office
Allison Phayre, Olympic College
Eldridge Raymond, NUWC Keyport
Cathy Ripley, MulitCare Hospice & Palliative Care, Hanten-Berger Scholarship
Mark Rufener, Kitsap County Sheriff's Office
Sue Strachan, Olympic College Foundation
Norma Whitacre, Olympic College Alumni Association
Bryan Wichert, Sanchez, Mitchell, Eastman, & Cure, PSC

Leadership Kitsap follows the Positive Leadership curriculum, designed to help identify, expand and enhance seven leadership capacities. It is a clear and useful approach to leadership that can apply to established and emerging leaders in business, nonprofits, community organizations and municipal government, and it has a strong personal development component.
Positive Leadership recognizes seven core capacities: authenticity, purpose, reason, advocacy, community building, resilience, and gratitude. Developing and strengthening these leadership capacities leads to increasing leadership potential.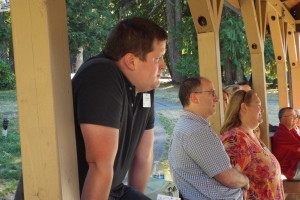 An Opening Retreat in September focuses on personal and public leadership skills. Individual leadership styles are analyzed, as well as group process skills of consensus building and conflict resolution. These structured retreats link substantive community issues with more abstract concepts of leadership.
Challenge Days occur once a month. Each day examines a key community issue such as local government, economics, education, healthy communities, state government, public safety, arts & recreation, and environment & planning. Presenters with differing perspectives and leadership involvement in the community appear each month.
Community Projects fill part of the ten-month period. Class members divide into teams to identify a community need and collaborate with existing community organizations in researching the issue, acquiring the necessary resources, and implementing creative approaches to the problems and opportunities facing our region. View Past Projects List
Leadership Class of 2018 is underway. Click here for additional information.
The year-long curriculum is designed to help participants acquire both a fuller sense of the critical issues affecting Kitsap County and also the leadership skills necessary to motivate and engage others in collaborative efforts to resolve them.
Selection Criteria
Leadership Kitsap class participants are selected through a competitive screening/interview process conducted by the Board of Directors. A limited number of individuals will be selected based on criteria including the following: commitment to civic involvement in Kitsap County, potential for community leadership, and professional as well as personal achievement.
Time commitment: Full participation by each member of Leadership Kitsap is critical. This includes attendance at:
Orientation  – Late August (2 Hours)
Opening Retreat – 2 Day, 1 overnight at Seabeck Conference Center
Monthly Challenge Days – One Friday/month from 7:45am to 4pm.
October through May.
Personal Presentation – June Challenge Day
Service Projects – to be scheduled by groups
Graduation Celebration – Late June
It is vital that you and your employer understand and honor these commitments. If you are unable to commit to this schedule, please do not apply at this time.
Selection Process – Application is a two-part process: (1) submit an electronic application to the Leadership Kitsap office  and (2) a personal interview.
Tuition – Tuition for the next curriculum year is $2500. At least $250 must be paid by the participant. The balance is usually paid by the participant's employer or sponsoring organization. Partial scholarships are available. There are no refunds.
Non – Discrimination – Leadership Kitsap does not discriminate on the basis of race, religion, sex, national origin, sexual orientation, age, or physical ability.
Confidentiality – All applications are handled respectfully and with appropriate confidentiality.
Application Deadline – April 1, 2018.