Local Government Day was held on October 13, 2017 at the Kitsap County Administration Building in Port Orchard. The day began with Board member Jennifer Yeaman (LK09) facilitating a discussion on authenticity in leadership and the importance of being authentic in one's personal leadership style. Authenticity is the first of seven leadership capacities the class will discuss as part of our Positive Leadership curriculum.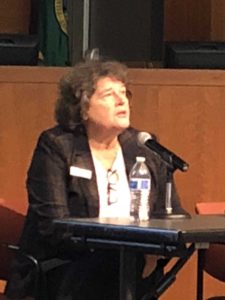 Our keynote speaker was two term Poulsbo Mayor Becky Erickson. Mayor Erickson shared her inspirational leadership journey. Her call to lead inspired the class to look forward, never back; to always listen; ignore self-doubt; and to be eternally optimistic.
Kitsap History Museum Executive Director Dean Tingey engaged the class in the many layers of Kitsap County's history. Cindy Ross (LK14) led a panel discussion about what it's like to be a public servant with County Commissioner Charlotte Garrido and Bremerton Council Member Greg Wheeler. Kitsap County Auditor Dolores Gilmore enlightened the class on the election process in Kitsap County. The class learned that in case of a tie a coin is tossed, and was impressed with the efforts to make each election 100% accurate.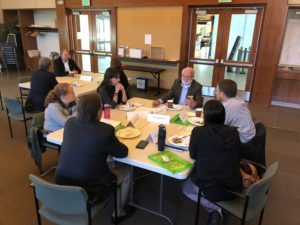 The class was joined for lunch by many of Kitsap County's locally elected officials. The casual, roundtable lunch discussion gave participants a greater understanding of local government and its impact on issues facing Kitsap County, as well as demonstrated the accessibility of our community leaders.
Lunch was followed by a debate between Joe Deets and Kevin Fetterly in the race for Bainbridge Island City Council District 7. The debate was moderated by Sharon Shrader of the League of Women Voters. Port Gamble S'Klallam Tribal Counsel, Gina Beckwith (LK09), wrapped up the day by sharing with the class how County and Tribal governments work together.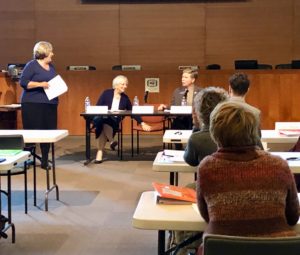 The day was an eye-opening look at Kitsap's local governance and the many individuals that come together to lead our county government.
Lunch Attendees: Assessor Phil Cook, Commissioner Charlotte Garrido, Bremerton Mayor Patty Lent, Auditor Delores Gilmore, SK School Board Member Christopher Lemke, Bremerton School Board Member Carolynn Perkins, CK School Board Member Bruce Richards, Port of Bremerton Commissioner Axel Strakelijah, Bainbridge Island Mayor Val Tollefson, Bremerton Council Member Greg Wheeler, Commissioner Ed Wolfe, NK School Board Member Beth Worthington, and Bremerton City Council President Eric Younger.
Organizers:  Carrie Eastman (LK11), John Gese (LK04), Heidi Scheibner (LK16), and Cindy Ross (LK14).
Sponsors: Thank you to the Corner Bakery Café for sponsoring our continental breakfast and Contract Management Services, a Division of Bremerton Housing Authority, for sponsoring the day.
Executive Sponsors: